Better known nowadays simply as Bernini, his sculptures and architecture defined what it meant to be a Baroque artist. As leader of the style, he secured commissions with the papacy including patronage of Urban VIII, Innocent X, Alexander VII, and even King Louis XIV of France. His most notable rival was Alessandro Algardi, but Bernini was considered the master of his day.
Influenced by his father, a Florentine sculptor, Bernini began his career in Rome and caught the eye of Annibale Carracci. He established himself at age 22 by gaining the patronage of Pope Paul V and later Cardinal Scipione Borghese, under whom he completed his first influential group of sculptures from 1619-1624. This particular group of sculptures tell dynamic stories of transitional moments in famous narratives. They reflect psychological energy and realism in physical detail.
The Rape of Proserpina (1621) is one of Bernini's earlier works and breaks from Mannerist tradition in its single viewpoint. Sculptures from the previous period required onlookers to walk around the statue in order to absorb the entirety of the story. Most critics praise the twisting serpentine body of Proserpina as she tries to escape from Pluto and the texture of the skin evoked in the marble, as shown by Pluto's hands digging into Proserpina's thigh.
Apollo and Daphne (1622) captures a moment of transition as Apollo attempts to seize Daphne as she is turning into a tree. Bernini again sculpted the work for it to be viewed from a single viewpoint, the side, in order for the observer to appreciate the narrative by simultaneously viewing both subjects facial expressions. There is some controversy about attributing the sculpture only to Bernini since a member of Bernini's workshop helped complete the details of the statue, including the leaves, bark, and hair of Daphne.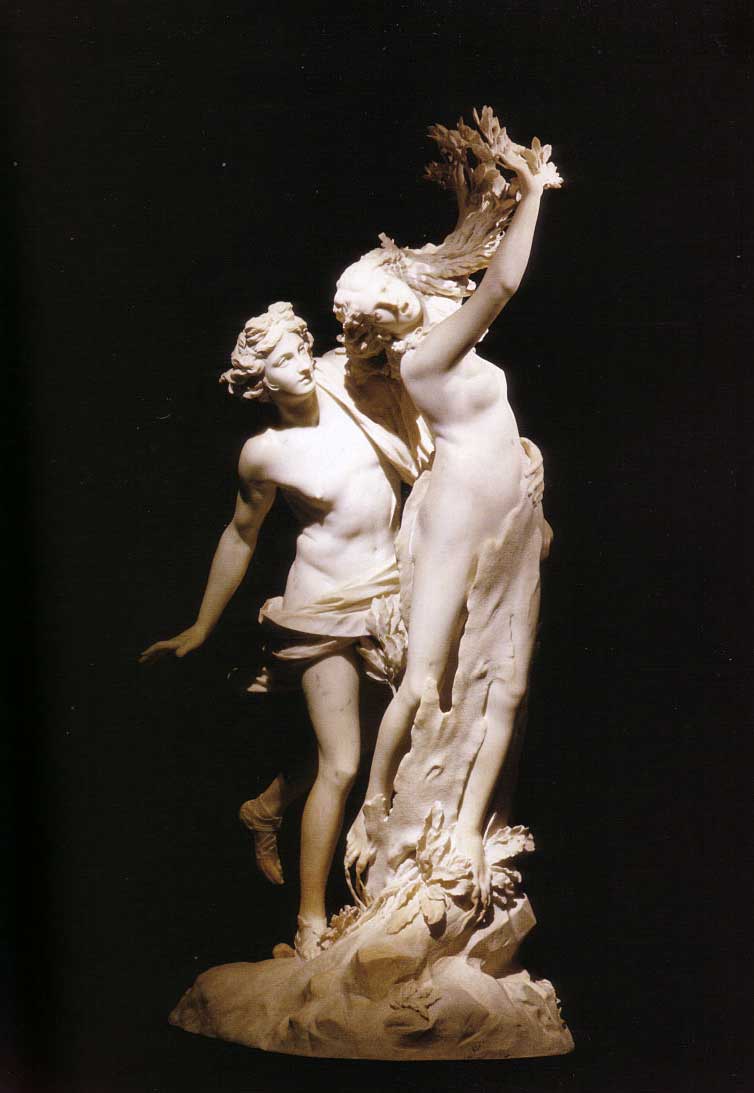 Bernini's David (1623) is a break from classical depictions of the biblical story. The Baroque David is in combat, twisted, and contains a sense of potential energy. Renaissances Davids usually depicted him in a moment of calm triumph after defeating Goliath.
In 1623 he began his work under the patronage of Urban VIII and created some of his most notable architectural pieces. He was appointed chief architect of St. Peter's in 1629. He began with baldachin, an enormous gilded structure recognizable for it's twisted columns, a break with the classic christian columns of the day. Bernini was deeply religious and involved in the Counter Reformation. He commonly used light as a metaphor for the focus of religious worship by incorporating hidden light sources into his works.
Although he completed many significant busts of powerful men during his time, no single work was linked to as personal or dramatic of a backstory as that of Constanza Bonarelli. She was the wife of one of Bernini's assistants but carried on an affair first with the artist himself, and then his brother. Upon learning of the secondary affair, Bernini beat his brother, ordered Constanza's face slashed with a razor, and eventually paid his way out of trouble.
1641 marked the beginning of a fall from grace for Bernini. His work on the facade of the Basilica cracked after a few years and eventually had to be removed. Critics blamed this on Bernini's poor engineering and planning rather than flaws within the stone itself. He also controversially won commission for the Four Rivers Fountain, his largest public work to date. The fountain was built during a famine and funded with public monies.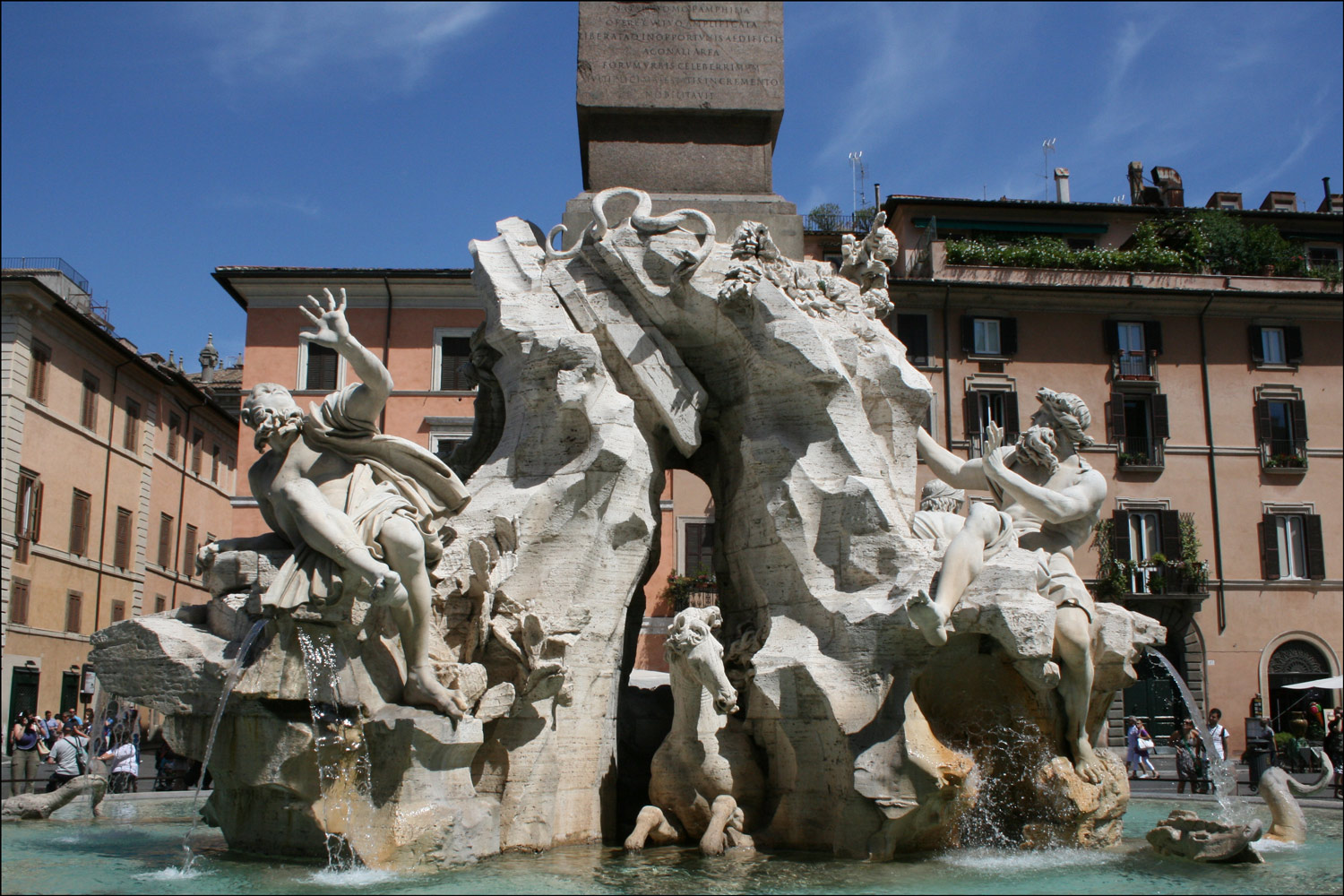 The greatest work completed in Bernini's later career is perhaps The Ecstasy of St. Teresa, housed in Cornaro Chapel. The work depicts, in marble, the moment were Teresa received a vision as she was pierced in the heart by a cherub and filled with divine love. The work also incorporates painting and a hidden light source to elevate the onlookers religious experience.
Bernini wasn't strictly a sculptor, but his painting did take a side line to his other notable works. Depicted below are two self portraits, one of him as a young man (1623) and the other a mature man (1635).
Gian Lorenzo Bernini dominated the art world of the seventeenth century, thriving under the patronage of cardinals and popes while simultaneously challenging contemporary artistic traditions. His sculptural and architectural projects revealed new reinterpretations of subjects, different use of forms, and combined a variety of media. He was instrumental in establishing a dramatic yet realistic

Baroque style.
Bernini is by far one of my most admired artists. He was a rockstar of his time and wildly successful. His treatment of the human form has inspired many a photo shoot with the publication I work with at Duke in one way or another. When I think of classic art, Bernini's work comes to mind before that of Michelangelo or even DaVinci. His stand alone sculptures completed under the patronage of Cardinal Borghese are my favorite works.
Sources
http://www.wga.hu/frames-e.html?/bio/b/bernini/gianlore/biograph.html
http://www.britannica.com/EBchecked/topic/62547/Gian-Lorenzo-Bernini
http://www.welcometorome.net/en/about-rome/famous-people/gian-lorenzo-bernini
http://www.galleriaborghese.it/borghese/en/edavid.htm
http://www.galleriaborghese.it/borghese/en/edafne.htm
http://www.galleriaborghese.it/borghese/en/eproserp.htm
http://www.essential-humanities.net/western-art/sculpture/baroque/