What is pop art? To Richard Hamilton, it is popular, transient, expendable, low cost, mass produced, young, witty sexy, gimmicky, glamorous and big business. This London born artist is often cited as the grandfather of the pop art movement, which began in U.K. with a group of artists who called themselves the English Independents. Born in 1922, Hamilton picked up art originally as a hobby. Yet, soon his passion for drawing and collage landed him in the Royal Academy School. However, Hamilton's unique vision and free will subsequently got him expelled after two and half years.
Fascinated by mass media and its effect on art and culture, Hamilton and the English Independents studied popular magazines, advertisements, cars and other mass-produced commodities.
While Hamilton celebrates this "mass media machine," he also expresses concern. In a lecture titled "Art and Design," Hamilton writes,

"The danger in the efficiency of the mass media seems to me to be in their ability to influence public opinion in spheres other than play, for instance in political affairs." While the expendability of art is harmless, the expendability of political ideas and propaganda is dangerous. Hamilton worries that the mass media can spur a contagion of political ideas that are lacking in truth. Therefore, the artist encourages his audience to teach the next generation "a healthy suspicion." Youths must be educated in the techniques of the mass media so they can always be questioning its motives.
Hamilton also noted the responsibility of the artist. He believed that pop artists are responsible for contributing to culture through the mass media.

The artist must also recognize that "his act is directed towards an audience and their needs." This is what the artist owes to the public, a conscious contribution to pop culture. Yet, according to Hamilton, the artist also owes something to himself. The artist must also ensure that his work gives him "maximum private gratification." The artist should not rely on critics and museums to deem his work valuable. Value is transient. Therefore, the artist has the personal responsibility to "hold on to his own." Artists are responsible for assigning their own personal value to their work.
Just What Is It That Makes Homes Today So Different, So Appealing? (1956) Collage.
In what is perhaps Hamilton's most famous collage Just What Is It That Makes Homes Today So Different, So Appealing? Hamilton includes commodities relevant to the time; a Blow Pop, tape recorder, lampshade, packaged ham and image of himself are just some the pieces in this collage that are taken out of context to create a social commentary on pop culture. The placement of the lampshade on the nude's head is witty. Using the blow pop as a phallus pointing in the direction of the futon is highly sexual. Using a picture of a crowd on a beach as the pattern for a carpet is gimmicky. The long staircase and the apartment's view add an element of glamour. It is clear the Hamilton stays true to his writings when producing his artwork. He takes mass-produced commodities and takes them out of context to give them new meaning. His work is inevitably intuitive. He is clearly conscious of his contribution and commentary on pop culture.
Solomon R. Guggenheim (1967), Oil on photograph.
Although Hamilton is most famous for his collages, the artist often sketched his work before creating with other mediums. For the famous serious of six fiberglass reliefs of the Guggenheim museum, the artist studied photographs of the building as well as the original plans drawn by architect Frank Lloyd Wright. Then, Hamilton made preparatory several sketches, paintings and prints of the museum before attempting to construct the mould used for all six reliefs. The final result is a series of works that comment on mass-production and pop art. In choosing the Guggenheim as his subject, Hamilton hints at the difference between the museum as artwork and the artwork as museum.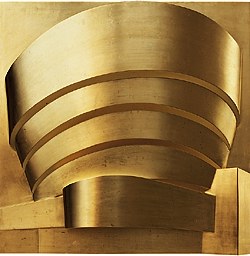 Solomon R. Guggenheim (1965-1996), Fiberglass and cellulose.
Solomon R. Guggenheim (1965-1996), Fiberglass and cellulose.
Sources:
"Collection Online - Richard Hamilton." Http://www.guggenheim.org. The Guggenheim Museum, n.d. Web. 3 Mar. 2013.
"MoMA.org | Interactives | Exhibitions | 1999 | Museum as Muse | Hamilton." MoMA.org. The Museum of Modern Art, New York, 1999. Web. 03 Mar. 2013.
Richard Hamilton, excerpts from a lecture entitled "Art and Design" (26-28 October
1960), in Popular Culture and Personal Responsibility, 135-55; reprinted in
Richard Hamilton Collected Words (London: Thames and Hudson, 1983), 151-56.
Wilson, Andrew. Richard Hamilton: Swingeing London 67 (f). London: Afterall, 2011. Print.