Edgar Degas
Edgar Degas was born in Paris in July 1834. He was born into a large, complicated family, and they remained important to him his entire life. His mother was American, from New Orleans, and died when he was only thirteen. His father never remarried, and he grew up with his three siblings and various bachelor uncles. Although his father was a banker, he was a "man of taste" - he loved music, befriending many professional musicians and composers, and art. He collected many great artists' drawings and brought his son Edgar to the Louvre frequently, where they admired the Italians of the 15th century.
Edgar Degas was educated at Louis-le-Grand, where he had a traditional, highly disciplined education with instruction based on the classics. He read Latin and Greek, and took music and drawing as extra subjects. He learned drawing by practicing from casts of antiques and engravings from old masters. He passed his Baccalaureate in 1853, placing him among some of the most well-educated artists of his time. He registered as a law student before deciding to study painting full-time, with the support of his father.
Degas spent the summer of 1855 traveling and studying other artists' works in different cities. His time in Italy is regarded as an essential shaping part of his career, and self-described as "the most wonderful period" of his life. He travelled without financial worries in Rome, Naples, Florence, Umbria, Viterbo, Orvieto, Citta della Pieve, and Perugia. He worked closely with Moreau for a time in museums and churches, sharing models and excursions. Degas began to explore new art, discovering northern art in a new light. Drawings from his notebooks in 1857 indicate his widening interests and confidence. He worked on portraits until discovering the world of horses and horse racing in lower Normandy.
In 1864, Degas met Manet. Legend has it, they were both copying a Velasquez portrait in the Louvre. Manet was astonished to find Degas drawing directly onto an etching plate, and soon discovered they had much in common. They were both of high bourgeois background, pictorially educated, had copied widely, were studio painters, focused on the figure, and of the city. Manet was already established at this point, whereas Degas had yet to make his great debut.Manet was the compelling influence on Degas' move toward "modern" subjects, exploring the contemporary world where he quickly became a step ahead of Manet. Manet followed him to the racetrack, the theater foyer, the cafe-concert, and the bath. Later on, an intimate rivalry developed between them.
Degas enlisted in the national guard, where he had expected to be in an infantry unit until discovering his eyesight was defective during rifle training. he served instead as a bastion in the defensive system ringing Paris in the artillery After the war, Degas was interested in furthering opportunities to exhibit his artwork in London. in 1872, he made the trip to London on his way to America. He painted for a time in New Orleans. When his father fell ill, Degas inherited debts as the eldest son, and was thrust into negotiations, trying to keep the bank afloat. For the first time in his life, the impressionist painter was under real pressure to sell his work.
After the death of his father, Degas was closely involved in the series of eight exhibitions that gave Impressionism its name. He explored new subjects in his work - subjects never treated by ambitious painters before. He explored new techniques, with painting, pastel, and print-making. He depicted cafe-concerts, life behind the scenes at the opera, milliners' shops, brothels, women bathing or having their hair combed, among others. He found himself continuously at odds with landscape artists.
Degas had a hard time finishing pieces that had been commissioned and paid for - nothing was ever finished in his eyes. He lived alone, with no intimate relations with anybody. He extended friendship with Mary Cassatt, who had great elegance and played a leading part in his pictures of women trying on hats. Her influence on American collectors later was responsible for the building of several fo the greatest collections of Impressionism.
Degas spent the last years of his life walking through streets of Paris, ignoring traffic, and painting by himself. He died on September 27, 1917.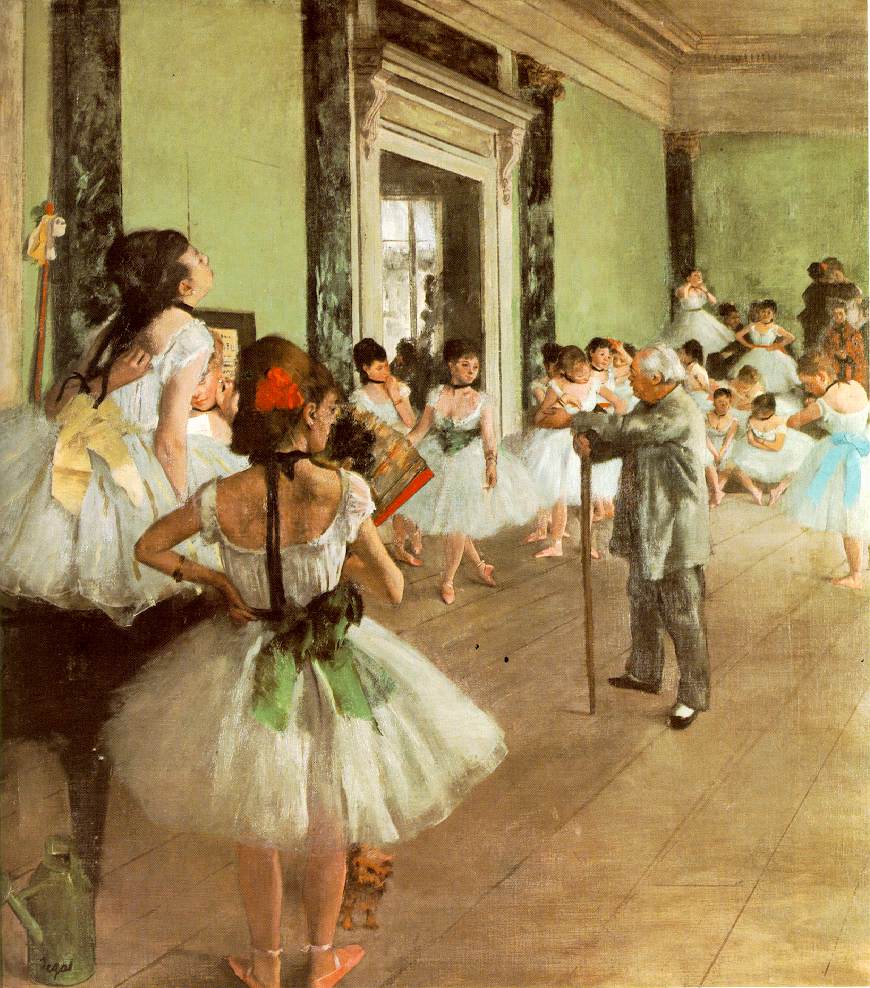 La classe de danse (The Dance Class). 1873-76.
This picture has hung above my bed for as many years as I can remember. It is what I immediately think of when I think about Degas. I love how he captures movement and attention in a picture. I also really enjoy his use of space. I think it is interesting that the girl in the foreground has her back turned, whereas the girls in the middle and background are facing frontward. I also find the small dog out of place in a room where it could easily be trampled, but completely adorable. I think this painting is an accurate representation of a moment captured in time, and tells a story. Dancers getting ready for class, some tired, some paying attention to their master. Some girls in the background seem to be gossiping. The girl on the piano in the foreground looks like as if she is about to sneeze. The watering can in the corner reminds me of Renoir's watering can from his piece "Girl with a Watering Can" which I also enjoy. I am probably most impressed with Degas' handling of textures in this piece. The doorframe differs greatly from the smoothed floorboards the dancers have dirtied. He captures the airy lightness of a tulle skirt, and the weight of a satin bow. While he does not make every detail "perfect," he lends each object in space the right suggestion to give the piece movement and purpose. This piece is definitely my favorite of all of his works.
Petite Danseuse de Quatorze Ans (The Little Dancer of Fourteen years). 1879-81.
The Little Dancer was the only sculpture Degas showed during his lifetime. It was among the most discussed of all the works in the 6th Independent Exhibition. With his first attempt, Degas revolutionized the traditions of sculpture in the same way he had shaken the conventions of painting. He adopted the method of old Spanish masters, but then made it entirely his own, modern and original. Her clothing used real fabric, real ribbons, a real singlet, and even real hair. The dancers painted head is slightly tilted back with the chin up, mouth half-open. Her hands are clasped behind her back, her flat chest crammed into the white wax-clogged singlet, sinewy legs well-exercised, stiff neck, and comes alive while remaining frozen in time. The little dancer looks as if she could step down from her pedestal. Degas was one of the first to put real clothing and fabric on a sculpture in the tradition of virgins and saints carved in wood were covered with ornaments and fabric and jewels. I love everything about this statue. She's not an attractive girl by herself, but the way Degas sculpted her and dressed her gave her grace and elegance that she may have otherwise lacked. She is also an example of what a real dancer may look like - perfect from afar, but up close, she too has her imperfections.
Les Repasseues (The ironers). 1884-85.
Degas saw the laundresses without sentiment, but with an interest in their skill and in how their work shaped their movements. I love how Degas captured movement within cloth with long, bold strokes, showing how they are rolled by the laundress. We can also feel the weight of the iron on the clothes, how the laundress presses on the fabric with the strength of her arms and back. I think it is interesting how her effort is juxtaposed by an exhausted woman holding a bottle, stretching and bending her arms after leaning over fabric for so long. This is an example of Degas' works in capturing the "modern world" other artists had left unnoticed before.
Woman Brushing Her Hair 1889
This piece depicts a woman doing the simply daily task of combing her hair. I love the unfinished quality of pastel in this piece. This seems more like a study drawing to some of his later paintings of women combing their hair. I think it is interesting that it is all neutral-toned, and the viewpoint is so zoomed in. I love the texture caught in her hair, and the details of a brush and background merely hinted at rather than drawn fully. I also find it intriguing that the most time seems to be spent on the face and hair, and the body itself seems largely ignored and only given a cursory glace to place it in the picture. This picture, bringing the viewer into a private space, is among the groupings of impressionistic art that was ground-breaking for the time.
Sources:
Gordon, Robert, and Andrew Forge.
Degas
. Trans. Richard Howard. New York: H.N. Abrams, 1988. Print.
http://www.ibiblio.org/wm/paint/auth/degas/ballet/degas.classe-danse.jpg
http://www.ibiblio.org/wm/paint/auth/degas/degas.repasseuses.jpg
http://uploads7.wikipaintings.org/images/edgar-degas/woman-brushing-her-hair-1.jpg