During the twentieth century, a time of abstract modern art, Andy Warhol boldly deviated from the norm and took the visual world by surprise by bringing about an artistic revolution. Warhol's work with everyday images such as soup and cereal introduced the power of iconography. With his bold, simplistic approach that transformed commonplace objects and celebrities into historical icons, Warhol was able to capture the very essence of American culture in the 1960's.
Warhol brought a mechanical flare into his images that were mass reproduced in his "Factory." He became dubbed the 'Prince of Pop' -- his art brought commercial and popular culture to the masses as the repetitive images became more and more recognized, appreciated, and understood. In this way, Warhol's pop art movement marked the rising era of mass communication.
Andrew Warhola, born in 1928 in Pittsburgh, Pennsylvania, had noticeable artistic talents at a young age. He later received proper graphic design and illustration training at the Carnegie Institute of Technology, becoming the first member of his working-class family to receive a college education. After graduating in 1949, Warhol set off to New York City, aspiring to become a successful commercial artist. Warhol was given a commission by the artistic director of Glamour magazine to design woman's shoes, which soon led to his new persona as a New York designer and the birth of 'Andy Warhol' that had originated from a typo. Warhol was a passionate man with developing obsessions with Truman Capote, shoes, and celebrities. These interests kept his work fresh and constantly changing.
Shoes, 1950's
Ink and dye on paper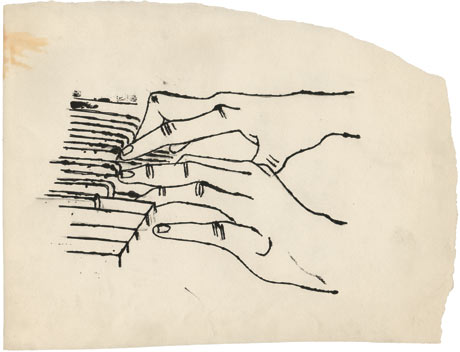 Two hands playing piano, 1954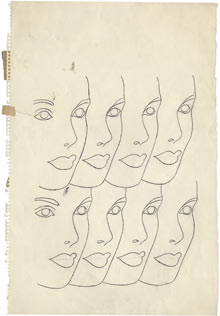 Face repeated eight times, 1958
When Warhol's success began to wane, his established Andy Warhol Enterprises, Inc. struggled. The business, fashion, and illustrator Warhol might have left, but the pop Warhol had yet to be born. Warhol admired the artists who had exhibits in the Leo Castelli Gallery, who shifted the art world away from Abstract Expressionism by bringing together an assembly of everyday materials and subjects. Little did he know that this would soon launch his new escapade: Warhol wanted to become a painter and and exhibit his work in the Leo Castelli Gallery as well. Warhol began creating his Pop Art iconography.
Campbell's Soup Can (Pepper Pot), 1962
Casein and pencil on linen
Warhol's style evolved steadily overtime to diminish the idea of an artist's handcraft, instead, he incorporated mechanical printing processes. In August of 1962, Marilyn Monroe committed suicide. This gave Warhol immediate reason to test his photo-transfer technique with Marilyn, a celebrity he had cherished for so long. His obsession with Marilyn resulted in his largest series to date.
Blue Marilyn, 1962
Acrylic and silkscreen ink on linen
Pop art Warhol was successful and gained increasing attention. In order to accommodate the increasing demands for his paintings, Warhol purchased a former factory building on Union Square as his new studio. This was Warhol's 'Factory.' In the fall of 1964, Warhol was offered an exhibition in the Leo Castelli Gallery.
Flowers, 1964
Acrylic, silkscreen ink and pencil on linen
At the peak of his fame, pop art Warhol announced that he was moving onto another realm, cinematography. This would start off a whole new Warhol yet again, though the transition from still to moving images was only natural. Warhol's behavior and mannerisms seem to reflect his work very well - taken at surface value, it is shallow and fleeting -- however when taking a deeper look, it is full of meaning and impact.
Andy Warhol intrigues me because he is one of the most written about artists, and for good reason. Warhol successfully hid himself in his art, or rather, his art became his identity -- constantly changing. People wondered about the "real" Warhol, and thus, he was able to constantly mask his identity and remain mysterious even after being in the spotlight for so long. Warhol created not only multiple personas, but an entire artistic revolution of pop art and iconic images of American culture that lasted, even when Warhol moved on. Warhol is truly inspiring with his motivated mannerisms as well as his philosophy on artistic identity.
Sources
D. Ketner II, J. (2013).
Andy warhol
. New York, NY: Phaidon Focus.
MacCabe, C., Francis, M., & Wollen, P. (1997).
Who is andy warhol?
. British Film Institute.
Lanchner, C.
Andy warhol
. New York, NY: Museum of Modern Art.
Brown, M. (2013, January 20).
Andy warhol's unseen early drawings unveiled next week
. Retrieved from http://www.theguardian.com/artanddesign/2013/jan/20/andy-warhol-unseen-drawings