Frantisek Kupka is an artist known for his abstract and graphic works. He is considered a co-founder and pioneer for the abstract movement. Born in Eastern Bohemia 1871, Kupka endured some unfortunate events, including severe facial scars from childhood smallpox and the death of his mother. Despite these troubles, he attended the Academy of Fine Arts in Vienna, and his career took off. I chose this artist after flipping through a book collection of noteworthy artists, and his abstract style caught my eye. I appreciate his passion for space and dimensions, as well as his attention to line and color.
This oil-on-canvas work, titled "The Cathedral" (1912-1913), is one of the most well-known (and well-liked by the artist himself) of Kupka's pie
ces. It belongs to a series of paintings that capture the stability of vertical plans and the tension of diagonals. Furthermore, Kupka accentuates the color of the image, as he related it to the church of Saint Germain-L'Auxerroi

s: "
Up close the blue was dominant. But from a distance, these borders were not purple, as one mightthink they would be, but they would seem red. The blue gets lost on the way..."
"Around a Point" (right, 1911, 1927-30) is an oil on canvas painting that shows Kupka's abstract graphical design. The spiraling motion represents the rhythms of space and cosmic forces.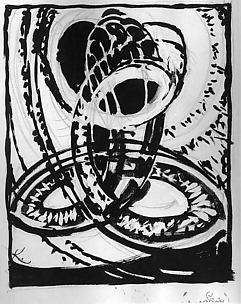 The image on the left shows a study drawing of Kupka's "Four Stories in Black and White" (1925). This drawing features ink, gouache, and graphite on paper. This work represents a sketch for a wood-engraving that tells a story and was printed on paper.
Sources:
Art Institute of Chicago. Graphic Modernism. Chicago, 2003.
"The Cathedral - Google Art Project" <http://www.googleartproject.com/collection/museum-kampa/artwork/the-cathedral-frantisek-kupka/320302/>.
Kosinski, Dorothy. Painting the universe: Frantisek Kupka, pioneer in abstraction. New York, 1997.