Edgar Degas (1834-1917) was a French artist from the Montmartre arrondissement in Paris. He was born Hilaire Germain Edgar, Hilaire after his paternal grandfather, and Germain after his maternal grandfather. Edgar was the eldest of five children, with two younger brothers and two younger sisters. His father, Auguste, was a banker, and his mother an American. Degas received a classical education at the Lycée Louis-le-Grand, and though his father wanted him to pursue law, Degas chose art instead. Interestingly enough, he was exposed to theater, music, and art from the influence of his father as well. After his graduation from Louis-le-Grand in 1853, Degas registered in the Department of Prints at the Bibliothèque Nationale as well as the Department of Drawings in the Musée du Louvre, where he made copies of the works of other artists to hone his own talent. Though accepted as a student at the Ecole des Beaux-Arts, he remained only a year. His artistic education remains largely unconventional.
René de Gas
(1855). Pencil.
The work of Degas reflects social ideologies, artistic influences, and personal interests alike. His brothers and sisters often served as models for his beginning works; in particular, his youngest brother René (René de Gas, above). René was two years old when their mother passed away, and it is hypothesized that Degas felt responsible for him. Numerous drawings of René, as well as at least two paintings, date from the 1850's. This study drawing depicts René, with eyes gazing up in a longing expression, which artists have said may be intended to impart wonder about the mother he never knew. This portrait is also said to be influenced by Hans Holbein the Younger, from The Artist's Family, serving as the inspiration for the expression. Degas was quite interested in facial expression and feelings, often showing variations in his portraits such as his famous brothel monotypes in addition to his study works of the face.
Degas completed over 1500 paintings and pastels in his lifetime, as well as several thousand drawings, prints, and monotypes. His career is often described in three parts: a copyist and history painter from the mid-1850's to mid-1860's, followed by two decades of Naturalist and Impressionist influences, and finally, a period from the 1890's on of which little is understood. His art was largely self-taught through copying the paintings and perspectives of other artists in his younger years. Degas travelled France and Italy to visit museums and print-rooms for this purpose, as well as spending December 1858-March 1859 with Gustav Moreau, a contemporary, copying in Florence. An example of a work from this period is a High Renaissance piece, Botticelli's
Birth of Venus,
which they both copied (below). Another example of a copy from this period of Mantegna's
Calvary: Crucified Thief
(c. 1853)
shows his willingness to work outside the realm of the recognized hierarchy of masters of the time.
Birth of Venus
(c.1859). Pencil.
Calvary: Crucified Thief
(c. 1853). Pencil, red chalk.
While his copy of Crucified Thief is an earlier copy and study drawing, it becomes evident in The Birth of Venus Degas has begun to adopt methodologies familiar to his own works. Degas was open to technical experimentation and unconventional use of some medias as well; this is easily seen in his well-recognized The Little Fourteen-Year-Old Dancer (1880, cast 1992, bronze with cotton skirt and satin ribbon).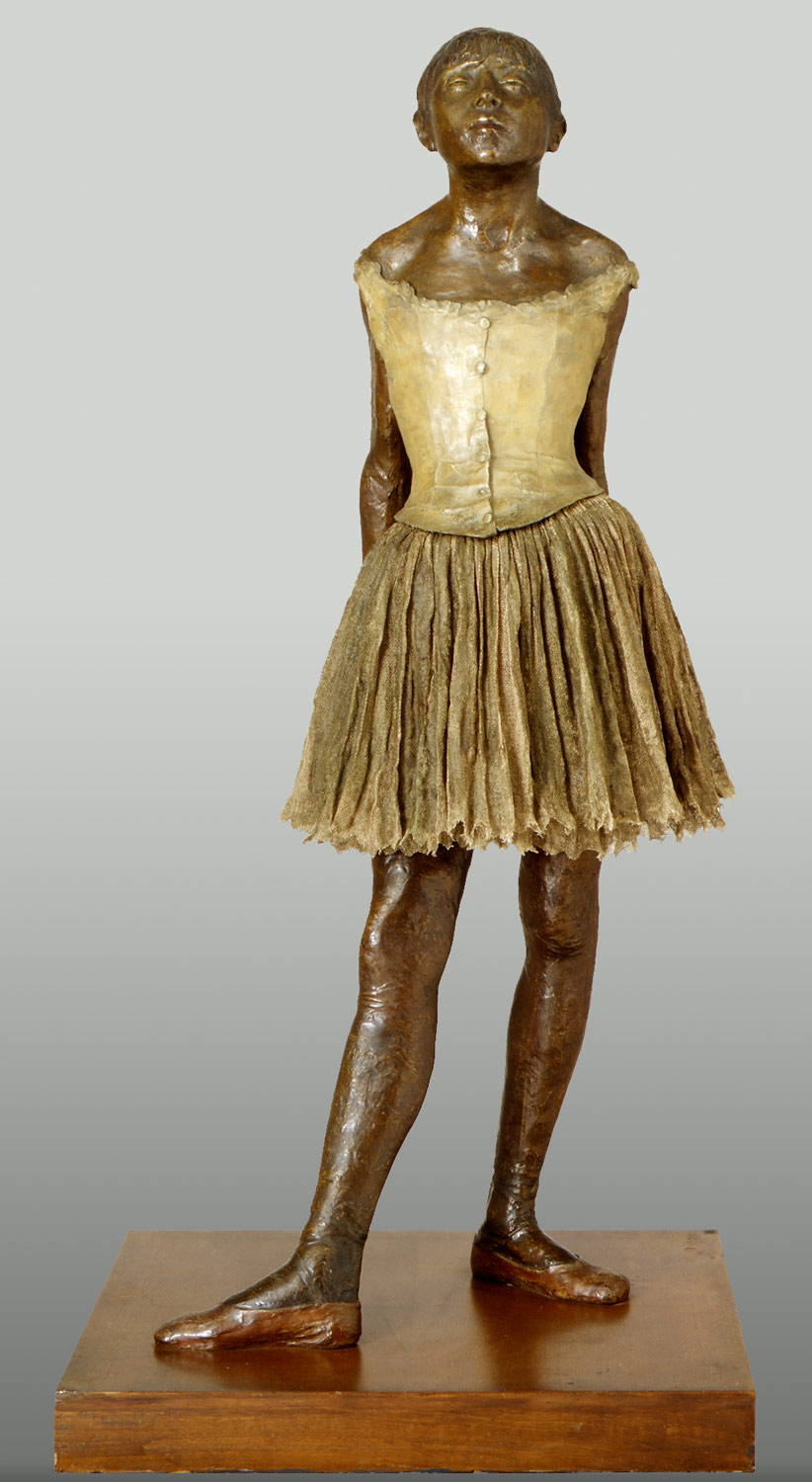 Degas' movement into Naturalist and Impressionist styles is reflected in his participation in seven of the eight independent exhibitions that brought Impressionism to prominence. He became associated with this movement publicly from 1874 – 1886, though he did not self-identify as such; Degas preferred labels such as "independent" or "realist." There are distinct differences between his work and those of better known Impressionists, such as Monet, a primary one being his focus on the human form and contemporary life as opposed to landscape. Similarly, his works during this time, though maintaining an appearance of spontaneity, were actually quite methodical and calculated. He embraced influences of photography and Japanese prints of his time, to show a "slice of life" vision in his works.
From this period, Degas may be best known for his ballet scenes, images he depicted for popular and market demand. Degas grew up in a gender-striated society, where art traditionally constructed women as objects of male desire. His depictions of women reflect these constructs, though his interest was also in the graceful lines of movement and the costumes the dancers donned. With his love of the arts and combined frequenting of the Paris Opéra and Opéra Ballet, he found the side wings and dancers he would paint for the rest of his career. He enjoyed painting the world of motion and beauty, capturing asymmetry and the fluidity of the human body from various vantage points. An example of one of his hundreds of paintings of the ballet is below,
Ballet Dancers in the Wings,
1900. Though this work depicts multiple dancers warming up, it has also been hypothesized to in fact be a single girl, diagonally depicted in her alterations of movement.
Ballet Dancers in the Wings,
1900. Pastel.
The works of Degas are still heavily admired to this day.
I chose to write about Degas because of my time in Paris. I had the opportunity to visit not only the Louvre, but the Musée d'Orsay and Giverny as well. Impressionism is my favorite artistic movement, and I enjoyed being able to study it through my art history course and my visits to museums. I found it quite interesting to discover that Degas himself did not wish to be fully considered an Impressionist, and moreover, that he spent such a portion of his life working from observation as we are doing now, and sketching nonetheless. I appreciated all the examples of mediums he worked with that I came across in this research, and being able to visualize some of the originals that I observed while in Paris.
Boggs, Jean Sutherland., and Edgar Degas.

Degas. Chicago: Art Institute of Chicago, 1996. Print.
Broude, Norma.

Edgar Degas. New York, NY: Rizzoli Internatioal Publications, 1993. Print.
"Edgar Degas."

Biography.com. A&E Networks Television, 08 July 2014. Web. 11 Feb. 2017.
Pedersen, Line Clausen., Elizabeth Steele, and Edgar Degas.

Degas' method. London, U.K.: Black Dog Pub., 2015. Print.
Thomson, Richard.

The Private Degas. London: Herbert, 1987. Print.