Born July 7, 1907 in Coyoacán, Mexico, Frida Kahlo is known for her surrealist artwork. Her mother was Mexican and of Native American and Spanish descent, while her father is German and of Hungarian descent. When Kahlo was a child, she suffered a slight limp as a physical side effect of polio, which followed her throughout the rest of her life. She would also assist her father, who was photographer, in his studio, obtain an eye for detail. As a young adult, she initially intended on studying medicine, but was still involved is art, helping to create a mural in her school auditorium. Kahlo was involved in a serious bus accident in 1925, resulting in over 30 surgical operations throughout her life. While recovering in a full- body cast, Kahlo taught herself how to paint and studied artwork.

Portrait of Lucha Maria, A Girl for Tehuaca, 1942




Frida's paintings reflected the good and painful aspects of her personal life, including her tumultuous marriage to Diego Rivera, her medical operations, and her miscarriages. She lived by her motto- " I never painted dreams , I painted my own reality"







Self- Portrait, 1941




Self- Portrait as a Tehuana, 1943




Henry Ford Hospital, 1932



Frida Kahlo the Broken Column 1944



Mexican culture was another major influence in her paintings, utilizing bright colors and monkeys (a symbol of lust in Mexican mythology. Interesting, Kahlo portrayed monkeys as symbols of protection and tender instead of lust in her paintings. She also incorporated symbols of religious Mexican tradition into her works.
Self- Portrait with Monkey and Parrot, 1942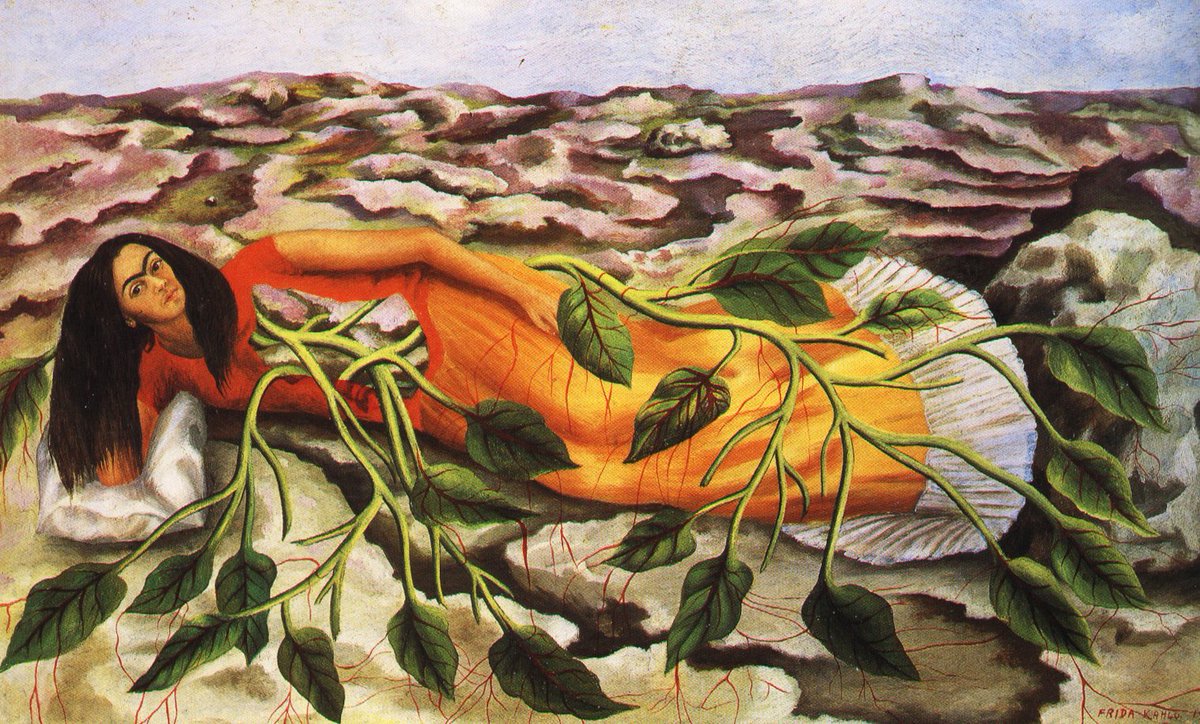 Roots, 1943
I chose to write about Frida Kahlo, because I was inspired by her artwork and her life after visiting an exhibit of her artwork in the Bowers Museum In Southern California over the summer. The exhibit included photographs to depicted the image of a woman who was not only a talented painter, but an activist, and one to express herself in other facets of life.
1. Frida Kahlo Foundation. "Biography of Frida Kahlo."
Frida Kahlo - The Complete Works - Biography
, 2017, www.frida-kahlo-foundation.org/biography.html.
2.
Zelazko, Alicja. "Frida Kahlo- Mexican Painter ."
Encyclopedia Britannica
, 25 Jan. 2018, www.britannica.com/biography/Frida-Kahlo.
3.
Stechler, Amy. "The Life and Times of Frida Kahlo."
PBS
, Public Broadcasting Service, 2005, www.pbs.org/weta/fridakahlo/life/.
4.
Souter, Gerry. Frida Kahlo, Parkstone International, 2011. ProQuest Ebook Central, https://ebookcentral-proquest-com.proxy.lib.duke.edu/lib/duke/detail.action?docID=791236.