Albrect Dürer
Self-Portrait at the Age of Twenty-Eight (1500, oil-on-wood painting)
Dürer's Background
One of the most well-revered artists of the German Renaissance, Albrecht Dürer was a printmaker and painter born in Nuremberg (then part of the Holy Roman Empire) in May of 1471. Due to his father's background in printing and publishing, Dürer was exposed to a variety of woodcut and printmaking materials since his youth and even produced his first drawn self-portrait at the age of the 13 in 1484. However, Dürer's influence spread well beyond his younger brother and established painter, Hans: Dürer became one of the most influential artists of the Northern Renaissance, an artistic and ideological movement in the European Alps following the spread of influence from the Italian Renaissance outwards from Italy.
He initially rose to fame due to his incredibly well-detailed wood engravings and altarpieces, many of which have been reproduced through the preservation of his woodcuts. However, his talents in oil painting have also been well documented and his usage of lowlight and highlight as well as usage of color have created parallels between his work and that of Raphael, Titian, and a number of other Italian artists of the High Renaissance.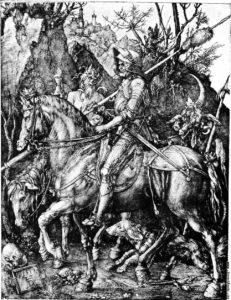 Knight, Death, and the Devil (1519, engraving on wood)



Adoration of the Magi (1519, oil on wood painting)
As shown in one of his most popular oil paintings The Adoration of the Magi, Dürer introduced many of the stylistic techniques and motifs later adopted by a number of Netherlandish artists in the High Renaissance. In both his usage of color and depiction of village life, the influence of Dürer's work can be clearly seen in later works from some of the brightest and talented artists in the Northern European Renaissance after his death in 1528, notably Pieter Brueghel the Elder's most well-known pieces, Netherlandish Proverbs. However, the notably more austere and spiritual tones in Dürer's work as compared to Brueghel's work can be rooted back to the Lutheran Reformation that influenced much of the work from German artists like Dürer at the time.
Netherlandish Proverbs (Pieter Brueghel the Elder, 1559, oil on wood painting)
Dürer's Study Drawings and Sketches
Unnamed (1494, drawing)
Although it may be hard to distinguish between Dürer's sketch-work and wood engravings, this indistinguishability is only a testament to his unmatched skill with both pen and chisels. As many of his works (both paintings and engravings) were oftentimes commissions for altarpieces or solo-standing work, Dürer produced a number of study drawings, many of which are preserved to this day. His ability to depict the human form in such a dynamic, three-dimensional, and true-to-life way has cemented his status with the most accomplished Renaissance sketch artists such as Da Vinci and Michelangelo and their preliminary pencil and pen sketch-work.
Mass of Cardinal Albrecht at Brandenburg in the Abbey Church Hall (1523, drawing)
In Dürer's drawing shown above, his incredible use of empirical perspective and shading using only a pen on paper highlights the high-degree of detail and a well-formed artistic foundation needed in preparation for producing engravings and altarpieces. As mentioned previously, although Dürer had worked in a different medium than Michelangelo in terms of producing final pieces, it seems as though they both share incredible talent and focus on anatomical accuracy and depiction of highlights and lowlights of the human form in their sketches.
Study of Hands (1507, drawing)
Although I am much better acquainted with Italian Renaissance artists due to my limited art history background, I chose to explore Dürer's work in order to learn more about the oftentimes overlooked Northern European Renaissance artists as well as his status as a pioneer in European printmaking. Although I've seen his prints and wood engravings before, I had never seen any of his preliminary drawings and sketches and was incredibly surprised at the level of detail and three-dimensionality of his drawings (particularly in Study of Hands, above) that I had previously only seen done in many of Da Vinci's drawings. Although there's no dearth of accomplished and brilliant Renaissance artists hailing from Italy, I would encourage anyone even remotely interested in High Renaissance art to explore art from German and Netherlandish artists, many of which share the same talent yet refreshingly different styles to their Italian peers.


Works Cited
Pioch, Nicholas. "La Renaissance: Germany."
WebMuseum Paris
, 14 Oct. 2002, www.ibiblio.org/wm/paint/glo/renaissance/de.html.
"Albrecht Durer THE COMPLETE WORKS."
Albrecht Durer
, www.albrecht-durer.org/.
Cotter, Holland. "The Renaissance Followed Him North 'Albrecht Dürer: Master Drawings, Watercolors, and Prints,' at the National Gallery."
The New York Times
, 21 Mar. 2013, www.nytimes.com/2013/03/22/arts/design/albrecht-durer-master-drawings-watercolors-and-prints-at-the-national-gallery.html.
Wisse, Jacob. "Albrecht Dürer (1471–1528)."
The Met
, Oct. 2002, www.metmuseum.org/toah/hd/durr/hd_durr.htm.