Before this research I had never been familiar with the work of Robert Rauschenberg. In one of my current classes, History of Art Markets, we participate in a "Fantasy Collecting" game, which allows us to buy and trade, virtually, items from the Nasher collection. It was within this framework where I first encountered Rauschenberg. I have of course been exposed to the artwork of Warhol and Pollock, but Rauschenberg seemed to have a more dynamic aspect- it was like the movement of Pollock and the cultural commentary of Warhol spun with a very unique hand into something that was even more alive. Perhaps it is because Rauschenberg's creative process is so evident in his pieces. For Rauschenberg, the working process was often even more important than the outcome.
As I learned more about the life of Rauschenberg, his work became even more powerful and I began to understand that it was not just his individual pieces that were so dynamic, but that his overall creative process was incredibly evolutionary. It was a reflection of the relationship between his inner and outer experiences.
Rauschenberg was born Ernest Milton Rauschenberg on October 22, 1925. He would later change his name to Robert. He was born in Port Arthur, Texas in an environment far from creative, but close to craft. His mother, Dora, was a telephone operator, but also a skilled seamstress who influenced his appreciation of design, randomness, texture, arrangement, and ultimately collage. He was a shy boy and until the age of 13 had every notion of being a minister. Yet, he was also very high-spirited. His personality at a young age was reflective of his future life, a balance of opposites- something that would be prominent in his work.
In 1942 Rauschenberg left his small oppressive town and enrolled at the University of Texas for a pre-pharmacy program. While he had dabbled in drawing comics, he had never considered art as a career. After refusing to dissect a frog, Robert was expelled and joined the Navy. He worked as a neuropsychiatric technician because he refused to kill. During this time he experienced his first art museum and realized that he could make his artistic skills into a career. In 1945 he was honorably discharged and in 1947 he enrolled in Kansas City Art Institute. In 1948 he moved to Paris to join an academy and met Susan Weil, his future wife. He is introduced to Matisse and Picasso, but unlike the others at the academy he does not care to compare his work, he just wants to learn to paint- the process is what is important. But, wanting more discipline he enrolled at Black Mountain College in North Carolina. In 1949 Robert settled in New York City and landed an exhibition in the Betty Parson's Gallery exhibition. However, he was far from being appreciated and was, in fact, much the opposite. After a move back to North Carolina and divorce from Susan, Robert began travels to Europe and then North Africa with Cy Twobly, a friend from the Art League in New York. This first experience with diverse culture would act as inspiration from the ROCI project in the 1980s at the end of his career. In 1971 Robert moved away from the urban environment to Captiva, a Florida island off the gulf of Mexico. His style began to change dramatically and after travels to India he began to be comfortable with the concept of "beauty".
The ROCI project, in my opinion one of the most interesting aspects of Rauschenberg's artistic career was a 7 year, 11 country art project – The Rauschenberg Oversees Culture Interchange. He saw "art as a social force and conduit of new ideas" and this final project would act as a compilation of his life experiences and his purpose of always wanting to reach out, work with others and use everyday materials.
Rauschenberg's use of materials was something quite exquisite. The objects seem to make no sense at all, but somehow by coming together they bring a very unique meaning- they beg to be interpreted. It is as if each object is carefully picked and carefully placed and it is up to the viewer to decide why that is. He also pushes the boundaries of collage and arrangement in his "combines". He felt that if paper and wood could go together and why couldn't a goat and a bed?
(1) I am choosing to look at Trophy II, 1961. Combine painting: oil, charcoal, paper, fabric, printed paper, printed reproductions, sheet metal spring on seven cancases, with chain, spoon, and water-filled plastic drinking glass on wood because one of the most interesting aspects to me of Rauschenberg as a painter was his acceptance and use of his dyslexia within his work. This work demonstrates his use of grid, vertical and horizontal composition that was often taught as a way of viewing to help dyslexia. Instead of loathing this handicap, Robert used it to his advantage. It enabled him to see things in a very different light than others and became something that he worked with quite well.
(2) The second work I choose to include is Coca Cola Plan of 1958. With strong hints of Warhol, this work speaks strongly about the American artifact. Not only this, but the work demonstrates again his use of symmetry, interpretation, and symbolism. The 3 bottles have spiritual connotations and the wings signify a sense of seemingly insensible triumph. His process is transparent as he includes the plan of construction as part of the piece. This piece also shows Robert's incredible diversity in style and technique, yet it shows that throughout all of his pieces there is a sense of continuity and consistency in arrangement.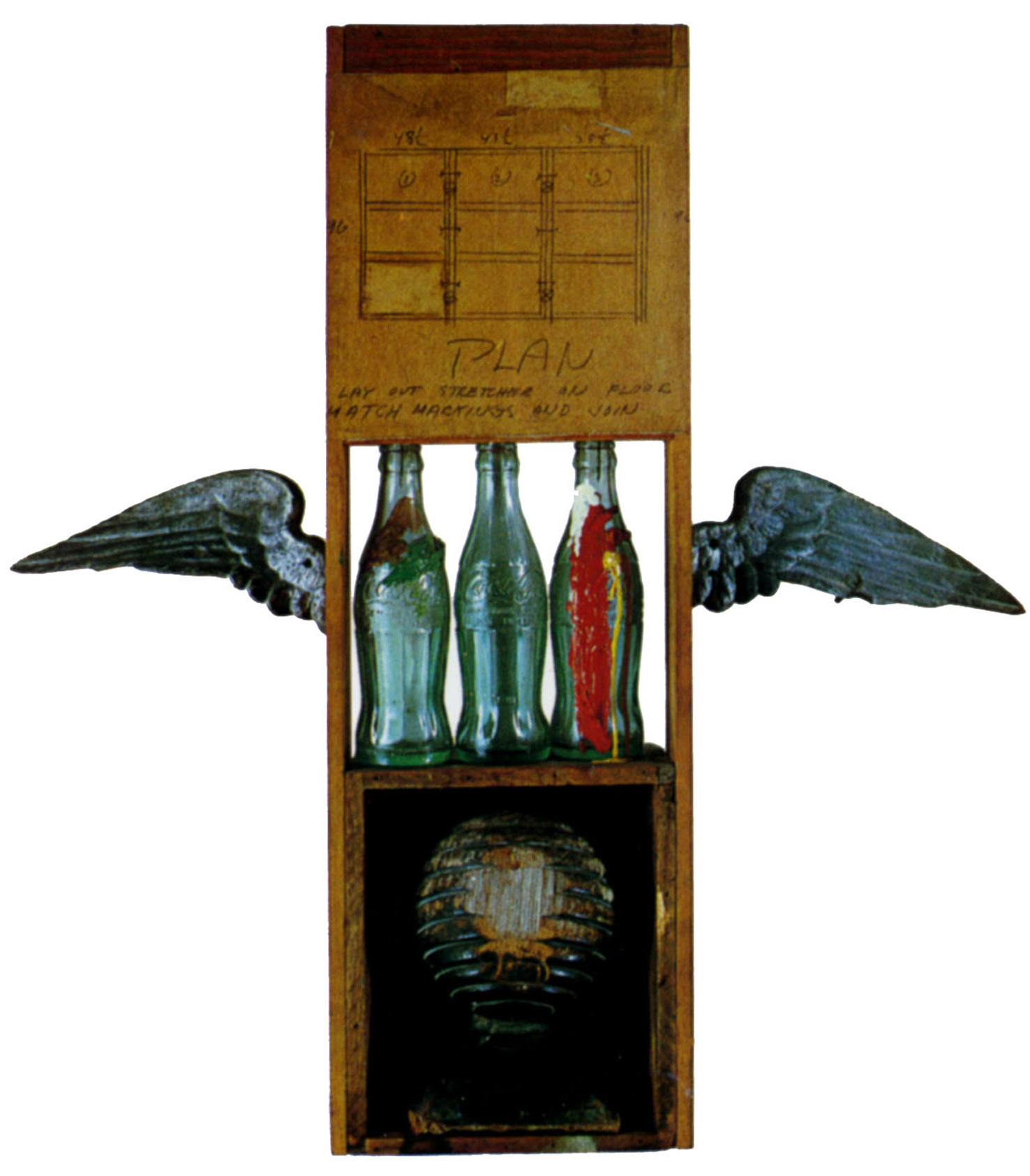 (3) The third work is Caryatid cavalcade II/ROCI Chile, 1985. I felt it necessary to include a piece from the ROCI project as it encapsulates Rauschenberg's incredible appreciations of diverse culture and his ability to express that through his art. It is also evident of his acceptance of color and beauty in the later years of his life. The colors, the images, and the energy are incredible. There is a since of organization, yet chaos- the yin and the yang of his personality is obvious- the reflection of his inner person in relationship to his outer experiences. The images involve demonstrate the culture of Chile and seem to tell a very interesting story. All are evident of Rauschenberg's love of diversity and collaboration and his love of Chile.
Mattison, Robert Saltonstall, and Robert Rauschenberg 1925-2008. Robert Rauschenberg : Breaking Boundaries: Breaking Boundaries. New Haven: Yale University Press, 2003. Print.
Hunter, Sam, and Robert Rauschenberg 1925-2008. Robert Rauschenberg. New York: Rizzoli, 1999. Print.
Hopps, Walter. Robert Rauschenberg : The Early 1950s: The Early 1950s. Houston: The Menil Collection :Houston Fine Art Press, 1991. Print.
Rauschenberg, Robert, 1925-2008, and National Collection of Fine Arts (U.S.). Robert Rauschenberg. Washington: National Collection of Fine Arts, Smithsonian Institution, 1976. Print.